Thank You for ordering
THE SLIMMING DIET EXPERIENCE.
We so much value your patronage.
And we look forward to assisting you in your journey to lose weight and for low-weight continuity.
You are encouraged to read the entire series for maximum absorption.
If you have questions, please either email us or call us leaving a detailed message. All phone inquiries are answered via email.
Emails answered via:easyway3@easy-ways-to-loseweight.com; or easyway.dlg47@gmail.com; or call 915-317-4553.
We try to respond by email within 24 hours or sooner.
Whitelist our emails, that way our response to you doesn't end up in your spam filter.
IMPORTANT: Fill out the form below to insure the receipt of all your purchases.
"Your credit card statement will show a charge from CLKBANK*COM."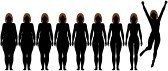 Thank You again and have Great Success, DL Grace pMed; BS; ASEMT
Please allow up to 24 hours for transmission of purchase. We hand email all ebooks and correspondence directly from our office at 103 Golf St Greer SC 29650. Thank You for your patience.