A Beef Recipe....great for Crock Pots
You can give back by. sharing this page now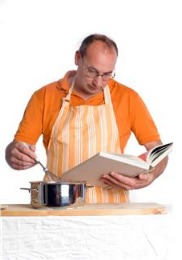 A Wonderful beef recipe which is actually a soup.
There aren't to many original recipes any longer.
But, this one is my own invention.
I use only organically feed, field raised beef.
They aren't corn feed so the meat is leaner and tougher.
But the flavor seems much more satisfying.
To begin a Beef Recipe and change the world by only buying organic meat!
3 B Soup
Any size Chuck Roast
1 Lg bunch of Broccoli
½ (14 oz) bag of Bob's Red Mill Vegi Soup mix (it has barley and lentils in the mix)
6 or more Cups water or 3 cups beef broth and 3 cups water
¼ tsp. Cloves
½ tsp thyme
2 Tbsp minced dried onions
Buy a roast that fits in your crock pot. Cook the roast in broth until done.
For me done is when the meat falls apart from trying to fork it out.
Three or more hours at least for cooking time.
After the roast has cooked remove it from the crock pot and strain the broth and pour it back into the pot and add all other ingredients except the broccoli.
Now the cooking time is contingent on the barley mix.
Because there is no set time after two hours check the barley mix for done-ness by tasting the soup.
When the soup is finally done add the broccoli.
The heat within the slow cooker is hot enough to cook raw broccoli.
Salt and pepper to taste.
Now that's a beef recipe to include in your file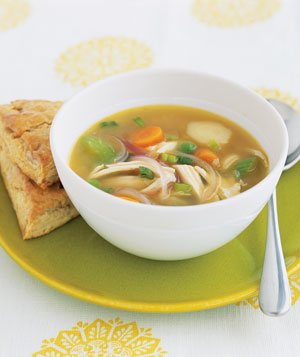 FOUR C'S SOUP
The four C's stand for: chicken, cheese, carrot and cabbage.
This is one of my favorite soups to cook in the crock pot.
1 whole chicken
5 c. water
4 carrots (peeled)
½ head cabbage
2 Tbsp dried minced onion
2 oz Vermont Sharp-white cheddar cheese ( I prefer Cracker Barrel)
Salt and Pepper
You are welcome to add celery and fresh onions, for me the flavor of this combination is unbeatable!
Boil the chicken in enough water to help make the broth (no longer than 2 hours).
Remove chicken from broth and pour broth into crock pot. Add 5 cups of water to broth and cook on high.
De-bone the chicken after it cools and place chicken skeleton in broth for 1-1½ hours.
If you leave the skeleton too long it falls apart and you're left with tiny bones in your soup!
You will need to strain the broth if this happens. Place the veggies in crock pot and cook for 3-4 hours.
Periodically check the carrots and cabbage for tenderness. Add the chicken and cook another 30 minutes.
After cooking when the broth has cooled I recommend allowing it to marinate in the refrigerator overnight.
While heating your soup, just as it starts to boil add the cheese and cook another 3-5 minutes.
Beef Recipe need to be made and eaten with pasture feed beef!!
<><><><><><><><><><><><><>
The Flavor Bible: The Essential Guide to Culinary Creativity, Based on the Wisdom of America's Most Imaginative Chefs
HOME Back to Top Low-Fat Recipes Obesity Lose Weight Recipe Contact Us
You can give back by. sharing this page now