DIET RECIPES
Contact Us



Diet Recipes

you can sink your teeth in and enjoy and well as rich fatty foods.
Green and Red Casserole
4 pre-cooked carrots (sliced)
1 bunch spinach (cleaned, drained broken small)
¼ c. onions
2 c. pre-cooked brown rice
1 can cream of mushroom soup
½ c. chicken broth
1 tbsp butter
Salt and pepper to taste
Mix all ingredients except ½ of the cheese in a bowl, and pour into a casserole dish.
Bake at for 25 minutes covered in a 350 degree oven. Sprinkle the rest of the cheese on top.
Uncover and bake for another 5 minutes or until cheese is melted.
Tip: for more flavor add a low fat but spicy sausage to the casserole!!
<><><><><><><><><><><><>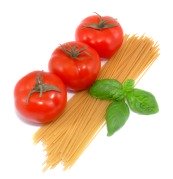 <><><><><><><><><><><><>>/center>
To Lose weight you must consider the food you are eating.
Take a good look at these diet recipes and find out for yourself if they don't satisfy your cravings and deliver great taste as well.
A super low-calorie recipe isn't difficult to invent.
I do it daily.
Because I like much variety when I eat.
That way I don't get bored with my menus and I keep from overeating.
Lose weight with some of the best recipes you can find anywhere in book or on the internet!!
<><><><><><><><><><><><>
Beef and Broccoli Pasta
lb lean ground beef
10 oz cooked pasta (any kind will do just make it low fat and sodium)
8 florets of broccoli (chopped without stalks)
1 onion (chopped finely)
12 -16 oz can of low salt tomato paste
¼ c. fresh garlic (chopped finely)
½ tsp basil
1 tsp oregano (Add more or less the way you prefer)
1 tbsp dried parsley (optional)
1 tbsp Worcestershire or soy sauce (check sodium level)
4 tbsp parmesan cheese
Brown the hamburger and onions in olive oil.
Add the broccoli and all seasons cook for about ten minutes covered with lid.
Then add the pasta and cook for 5 minutes covered.
<><><><><><><><><><><><>
You'll find more to come as I invent new ways to refurbish old fatty recipes along with my own weight loss concoctions.
Since cooking is so close to all of us take a minute to copy the recipes above and send me feedback when my site is fully set up.
I very much want to know how these recipes help you lose weight and deal with hunger and cravings.
That is the whole reasoning behind my inventive fun low-fat foods.
Contact Us