easy recipes for Weight Loss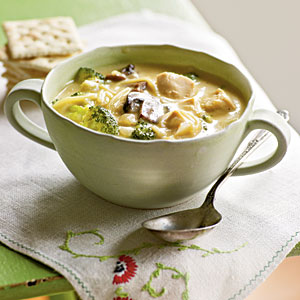 This is one of my home cooking easy recipes for weight loss and for sheer enjoyment.
FOUR C'S SOUP
The four C's stands for: chicken, cheese, carrot and cabbage.
This is one of my favorite soups to cook in the crock pot.
1 whole chicken
5 c. water
4 carrots (peeled)
½ head cabbage
2 Tbsp dried minced onion
2 oz Vermont Sharp-white cheddar cheese ( I prefer Cracker Barrel)
Salt and Pepper
You are welcome to add celery and fresh onions, for me the flavor of this combination is unbeatable!
Boil the chicken in enough water to help make the broth (no longer than 2 hours.)
Remove chicken from broth and pour broth into crock pot. Add 5 cups of water to broth and cook on high.
De-bone the chicken after it cools and place chicken skeleton in broth for 1-1½ hours.
If you leave the skeleton too long it falls apart and you're left with tiny bones in your soup!
You will need to strain the broth if this happens. Place the veggies in crock pot and cook for 3-4 hours.
Periodically check the carrots and cabbage for tenderness. Add the chicken and cook another 30 minutes.
After cooking when the broth has cooled I recommend allowing it to marinate in the refrigerator overnight.
While heating your soup, just as it starts to boil add the cheese and cook another 3-5 minutes.
<><><><><><><><><><><><><><>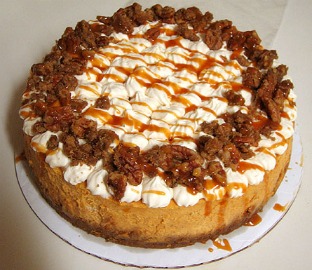 Pumpkin Pecan Cheesecake
1 can pumpkin (12 to 16 oz can)
8 oz cream cheese (low or no fat)
½ c. natural cane sugar
¾ c. stevia
2 tbsp natural brown sugar
2 eggs (use egg substitute if necessary)
¾ c. milk (use low fat and can substitute evaporated milk)
1 ½ tsp cinnamon
2 tbsp cornstarch
1 tsp ginger
½ tsp nutmeg (optional)
Whip up cream cheese, sweeteners until it is quite light and airy. Mix the pumpkin, eggs, milk, corn starch and spices in a different bowl then combine.
Stir as necessary to blend all ingredients well.
Crust:
2 c. graham crackers
½ c. butter (low fat)
¼ c. stevia
Mix all ingredients in a bowl then spread over a 9 inch pie plate about an inch to an inch and a half up the sides. Pre-heat oven to 350.
Bake the crust for 5 to 10 minutes but don't let it get brown. Let it cool for a few minutes then pour in the pie filling.
Bake for an hour or until done.
Cheese cakes are usually done when the edge is still but the center jiggles a little.
<><><><><><><><><><><><><><><>
Two very easy recipes for the whole family.

Just because you are dieting it doesn't mean you can't enjoy what you are cooking.

I experiment with nearly everything I cook.

Many times I very easy recipes like these two in order to have more variation.
Contact Us