JUICE Recipes-Lose Weight the Healthy Way!!!
Contact Us
Juice Recipes
Aren't just for women or men wanting to lose weight.
Juicing is for all of us including children!!
What juicing does for the body is nothing less than miraculous.
Because most diseases are cause by free radicals attacking the body.
Juicing supplies these free radicals with the elemental oxygen they search and destroy the body for.
With the right juicer you can prevent or eliminate disease just by making your own juice on a daily basis.
If you are suffering from some malady checkout The Gerson Therapy written by Charlotte Gerson.
<><><><><><><><><><><><><><><>
Easy Ways to Lose Weight-Obesity
Easy Diet Recipes-Juice Recipes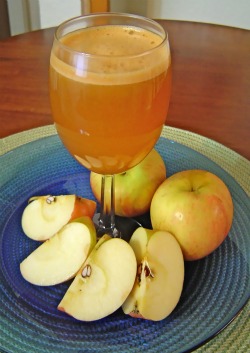 "JUICING Fruit with Vegetables...will give you an almost complete array of vitamins and minerals"
A Recipe for LIFE!
Apple and Veggie Cocktail
2 Apples (medium size)

2 med Carrots

2 stocks Celery

2 handfuls Spinach

6 sm florets Broccoli
Start by juicing the apples first, next in order: carrots; celery; spinach; broccoli.
Lastly:
"use a peeled wedge of Lemon"
<><><><><><><><><><><><><><><>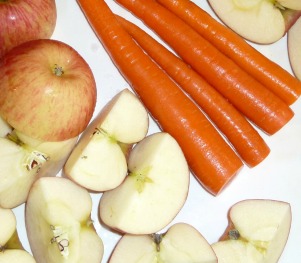 Just about every vitamin you can think of you can get mega doses of with one simple 8 ounce glass of fruit and veggie drinks.
That's why juice recipes have become so popular.
You get all the vitamin C and A you'll need for the day.
Take your drink outside and drink it in the sun.
Now you have added vitamin D to your vitamin consumption list.
Do not wear sunscreen, you won't pick up any rays.
Other things like minerals: potassium, magnesium, calcium, phosphorus, zinc and more Flavonoids and a host of other compounds necessary for wonderful health.
<><><><><><><><><><><><><><><>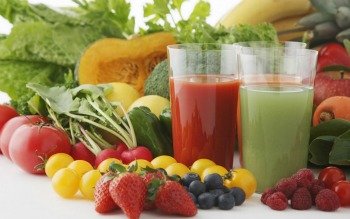 Now for pure pleasure try just juice!!

Summer or winter you'll enjoy the "Spring" feeling of this awesome combination made for parties or just sipping while reading your favorite novel.
Raspberry Surprise!!
1 C. fresh Raspberries

1 Mango

1 C. Strawberries

1 Lemon wedge

1 Lime wedge

4 Ice Cubes
Juice in this order: Raspberries; strawberries; Mango; lemon.
Be sure to peel and pit the mango.
Don't forget to peel the lemon, also.
Lemon rind makes the juice bitter, so don't use it.
Then pour the juice in a blender and drop in the ice and blend.
Drink it immediately.
<><><><><><><><><><><><><><><>
Juice Recipes