Give to a FRIEND by share this LIFE enhancing information...
Recipes recipes....Good Taste+Weight Loss
Recipes Recipes and more recipes!
Planning a meal starts with the right recipes.
Fancy meals are great but I would prefer easy quick and low fat menus.
Most of the recipes your find on this site are specifically designed for the dieter.
Also, for the person who want to maintain a healthy weight.
It's a lot easier than you think to invent your own recipes.
Recipes!
<><><><><><><><><><><><>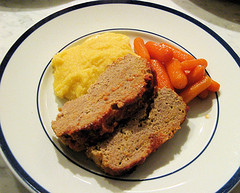 <><><><><><><><><><><><>
Turkey Meat loaf
2 lbs of ground turkey meat
3 eggs or egg whites
3 or 4 slices of whole grain bread (that have been dried out and crumbed)
1 green pepper diced
½ onion diced (yellow or white onion)
2 tsp dried minced onion
1 tsp dried oregano flakes
1 tsp ground red pepper
5 tbsp mild hot sauce
5 tbsp ketchup
Salt and pepper
When you purchase the turkey meat buy only white meat with 1g of saturated fat.
Keep all the ingredients refrigerated until ½ hour before preparation.
Cold ingredients are much more pliable. Mix the turkey, eggs, and breadcrumbs together.
Add diced green pepper and onion, distributed evenly.
Mix in hot sauce and ketchup.
If you have a preference for a spicier meatloaf use extra hot sauce! Now add minced onion, red pepper, oregano, salt and pepper. Salt and pepper to your liking.
If you do not enjoy spicy meatloaf, red pepper and hot sauce may be excluded. Add extra ketchup if necessary.
<><><><><><><><><><><><><>

<><><><><><><><><><><><><>
Recipes Recipes!!
I designed my turkey meat loaf to not only be filling and very much fat-free but it also has a good amount of fiber at 7g per 6oz slic.!
Recipes Recipes
<><><><><><><><><><><><><>
Sweet Potato French Fries
1-2 sweet potatoes (peeled)
2-3 Tbsp Olive oil
Salt & pepper
Cut the potato into long strips similar to French fries.
Pour olive oil in three 9-in. pie tins covering the entire bottom. Divide fries evenly and place in tins.
Roll the sweet potato fries around in the olive oil until covered.
Preheat oven on Broil.
Place the tins the lowest oven rack. Let them cook 15-20 minutes. Check them frequently because they burn so quickly. After cooking them sprinkle on some salt and pepper.
I enjoy mine with ketchup, so good!
You can also cook them in a skillet.
Use ¼ cup of olive oil.
Let it get sizzling hot then add the sweet potato.
You could actually make sweet potato chips by cutting across the grain. Make them as thin or thick as you like.
Add a dash of salt and pepper then dip them in ketchup!
<><><><><><><><><><><><><>