Lose Weight by Stair Climbing
Give to a FRIEND by share this LIFE enhancing information...
Stair climbing has got to be the quickest way to lose weight known!!
You are expending so much energy to stair step that in under 10 minutes you can burn 200+ calories.
I had a during my young years and was up to 1 hour workouts.
I lost so much weight I had to eat more because I was beginning to look gaunt.
However, my hour workouts on an $80 machine saved my life!!
And not the way you might think, nothing to do with over-weight-ness.
No, not at all. I had had a
The doctor being none to bright, doubled my blood thinner and within 24 hours I had bled out 3 pints of blood via my colon.
The hematologist who examined me during my 3 day hiatus in the hospital, told me my strong invincible heart saved my life it was in perfect condition.
And believe it or not: I walked into the emergency room with a blood pressure of 64 over 39.
I should have been comatose.
<><><><><><><><><><><><><>
"I wouldn't advise anyone to stair step for an hour.
Unless you are pretty active right now stick to 15 minutes for 1 or 2 months."
If you have a 2-story house work on your stairs at least 10 minutes 3 times a week.
Do Not rush out and buy an expensive stair stepper machine!!

As you progress beyond 1 month try stair climbing for 15 minutes.
When I stair stepped on my parents hallway stairs, it was easier to continue if I counted the stair climbs instead of working out via the clock.
Always the minutes went to slowly.
Climb slowly it make for a better workout and you gain muscle much faster.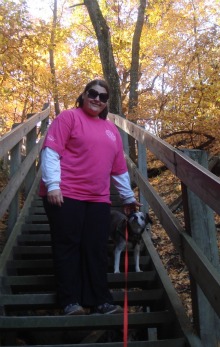 My friend had over 100 lbs to lose. She lost weight just by taking her dog for climbing walks.
"Concentrate on the fun of walking," was her reply to anyone who asked her how she did it.
She found pleasure in accompanying her puppy.
Before she had a dog her biggest effort each day was standing long enough to make meals.
After a few month of vigorous exercise and after losing weight her appetite also changed.
Men were beginning to say, "Hello!"
Which was a rare happening for her...encouraging her to de-plus her pants size for an 8-10 size.
Of course, she did not do it overnight...nor even in a few months.
She was a few month under 2 years when she started wearing size 10 dresses.
Beth's experiences was magical-in that-the wanting the take good care of her pooch...got her moving.
And most likely her doggie saved her life the way stair climbing saved mine.
<><><><><><><><><><><><><>
Easy Ways to Lose Weight-Burning Calories
Stair Climbing
Obesity
So, How many calories can you sweat off via climbing stairs?
If you are around 175 lbs you can burn 145 calories in 15 minutes.
At 200 lbs you can burn 160 calories in 15 minutes of this exercise.
If you add just 5 minutes to your stepper routine you'll burn another 50 calories burned.
At 250 lbs you will burn 200 calories.
Perhaps, at this weight you might want to lose weight slower while stair climbing.
My suggestion is: start small with any highly aerobic of no more than 5 minutes slowly.
Contact Us