Ways to Lose Weight  without Sagging Skin

Dieting? Want to quell craving Super FAST, try this...
email me: easyway47@gmail.com

Advertise on Easy Ways to Lose Weight



Give to a FRIEND by share this LIFE enhancing information...



Dieting can be made easy just by following a few simple tricks. Water flushes fat… can't get any easier!

---
Good Taste Recipes...
Make Your Own Pot Pies

Wonderful good taste recipes!!

Good taste recipes start with low salt, fat and refined sugar.

When dieting don't forget the pot pie recipe for great dinner ideas.

You can never go wrong with the easy recipes and pot pies are an easy way to lose weight recipe... too!

Here now are to pot pie good taste recipes for your general use.
This first pot pie recipe is a variation of the recipe in Elinor Klivans book, Potpies, Yumminess in a Dish.
I am never good at following recipes to the letter and this concoction is no exception.

In a big bowl mix the flour wit the shortening, add salt if you like. Blend by using a pastry whip, Continue blending until the shortening is finally covered with flour.

Then sprinkle the cold water over the flour mixture. Stir the crust mix with a fork.

Add in a fifth tablespoon if needed.

Roll out 1/2 the dough on a floured surface.




Chicken Pot Pie


When dieting a good taste recipe like can dispel cravings.


The Filling:

3 breasts of white meat chicken cut in small pieces (pre-cooked)

3 c. chicken broth (low salt)

5 Tbsp of organic un-bleached flour

1 Tbsp of organic soup base (low sodium)

1/2 c. water

1. c of frozen or fresh peas

The Crust:

1 1/2 to 2 c. organic un-bleached flour

1/2 to 3/4 c. cold vegetable shortening or you can sub with cold sticks of butter.

Just use unsalted butter.

4 or 5 Tbsp of ice water

Salt and pepper to taste.

Put the dough after completely rolled out into a pie plate with a 6 inch diameter bottom.
What an easy ways to lose weight and lower your salt intake at the same time.
For the filling, mix flour and water. Now heat the chicken broth and the soup base in a pan for no longer than 5 minutes.
Take it from the heat and blend in the flour and water mixture.
As the mixture cools the sauce will thicken slightly.
Add the rest of the ingredients and place over medium heat for another few minutes.
Let it cool while you roll out the top crust.
After the meat mixture has cooled evenly pour it into the pie plate and top it with the 2nd crust.
Cut 4 or 5 slits in the top pie crust with a sharp knife about a 1/2 inch long. There's your good taste recipe for the whole family.

Preheat oven to 400 degrees. Bake for 1/2 hour or until the crust is lightly brown.
Wonderful lose weight recipes!!

When Dieting Recipe Guide

has Amazingly Simple Pot Pie Recipes



This might not be the best picture but this is a pot pie recipe I made from scratch.

It's very wholesome and great for when you are on a diet. A good taste recipe for all seasons.

You will find this awesome recipe and 80 more fun, easy and less time consuming delights all through the book.

So, scroll down ad get my newest book...right now for 1/2 price







Turkey Pot Pie
2 Organic whole grain pie crusts
1 lb ground turkey meat (low-fat or fat free)
2 eggs
2 large potatoes
1 large carrot sliced
1 green pepper diced in small bits
1 onion diced in small pieces
Salt and pepper to taste
First peel potatoes and dice in small ½ inch cubes.
Peel and slice carrots, then dice green pepper and onion. Mix eggs with the turkey, season to taste.
Layer ingredients in pie shell.
Start layer of potatoes, then carrots, green pepper, onion, and ground turkey mix. Repeat layers until ingredients are used up.
Take second pie crust, remove from tin pan and place it over the pot pie.
Use a fork to mash the 2 crusts together along the edge of the pan, dip the fork in water periodically.
After fusing the 2 crusts together place pot pie in oven preheated 350 degrees.
Cook for 1-1½ hours.
Keep a close watch on the pie for the last 20-30 minutes you DO NOT want to burn the crust!
---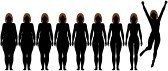 ---
Fast Ways to Lose Weight
Save up to 80% Everyday at Vitacost.com! Click Here!