Ways to Lose Weight  without Sagging Skin

Dieting? Want to quell craving Super FAST, try this...
email me: easyway47@gmail.com

Advertise on Easy Ways to Lose Weight



Give to a FRIEND by share this LIFE enhancing information...



Dieting can be made easy just by following a few simple tricks. Water flushes fat… can't get any easier!

---
56% OFF

off the Regular Price $19.95
HURRY... for the 1st "100 people" to get one or more mini diets...56% off $9.00
---
---
Losing Weight Contest
Here's what You need to do to Enter the Contest
Email your:
Full Name
Before picture with developers date and address
Your weight when picture was taken
email infomation to easyway.dlg47@gmail.com or easyway3@easy-ways-to-loseweight.com
---
Rules are simple: Start now take off as much weight as you can by Halloween.
The one who loses the most weight will receive a $100 gift certificate from the store of her or his choice.
All Gift Certificate must be obtainable online via a store that offers them.
Before and after photos must be taken and the dates must be verifiable via a photo developer.
Any faked dates will disqualify the contestant!

Contestants must use any of the diets here or on this page or this page and must prove the use via a receipt.
An independent agent will solidify the authenticity of the photos and determine the winners.
(If two individuals come within 5 pounds of each other the 2nd closest to the winning weight receives a $50 certificate from the store of her or his choice.)

All photos must be taken with a traditional camera (no digital camera photos allowed) and must have the dates clearly embedded on the photos via the developer.
The name, address and phone no. of developing store must be on all photos. (example: if photos are developed at Rite Aid or Walgreen's the information must be on the photo.)

The contest requires a minimum number of contestants... so get busy and get started tell your friends.
---
You can give back by sharing this page now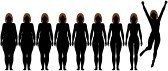 ---
Fast Ways to Lose Weight
Save up to 80% Everyday at Vitacost.com! Click Here!