Ways to Lose Weight  without Sagging Skin

Dieting? Want to quell craving Super FAST, try this...
email me: easyway47@gmail.com

Advertise on Easy Ways to Lose Weight



Give to a FRIEND by share this LIFE enhancing information...



Dieting can be made easy just by following a few simple tricks. Water flushes fat… can't get any easier!

---
Overweight in America
Overweight in America a bad thing or are we lucky we have the choice to be overweight?
I was thinking about this fact a couple of days ago, are we a doomed society because we are becoming obese or are we supremely blessed to have enough food that we can throw out millions of pounds each year?
I have also wondered how many mouths in Africa and Asia we could feed if we processed the leftover and gave them away- even to the starving in this country.
Oh, in case you don't believe people are starving open you well feed eyes and try caring about some one other than your immediate family, you'll see millions.

I believe we are extremely lucky not to have to be born in a place like Africa where one out of every three people is starving or malnourished.

Most of the children in countries where natural resources aren't as plentiful as they are here die before they become teenagers.

The average age in most African countries is 29 years-old.


They depend on organizations like Save the Children, UNICEF and FEED America.

Over weight in America might not be such a bad thing after all.




Another unfortunate circumstance for the Asian and African societies, their population growth is horribly high which leads to more starvation.
I give when I have extra, I make other people aware and I try always to stay involved.
So, this holiday season make it into a giving to others in any way you can.
Drop a $20 bill in a collection plate that's actually going to the needy and not to build a fancier church than the next congregation.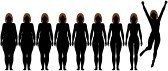 ---
Fast Ways to Lose Weight
Save up to 80% Everyday at Vitacost.com! Click Here!