Ways to Lose Weight  without Sagging Skin

Dieting? Want to quell craving Super FAST, try this...
email me: easyway47@gmail.com

Advertise on Easy Ways to Lose Weight



Give to a FRIEND by share this LIFE enhancing information...



Dieting can be made easy just by following a few simple tricks. Water flushes fat… can't get any easier!

---
Sodas and Losing Weight
Sodas and losing weight, does drinking diet sodas help you lose weight ever?
You must know soft drinks are not the smartest ways to lose weight or quench your thirst.
Making sugary soft drinks a habit increase your risk of high blood pressure, diabetes, heart disease, kidney failure and the problem many Americans are having obesity.

Water, Orange Juice, Grape Juice, Lemonade




Water the easiest way for you to get the recommended amount of water daily is: buy a container for drink and make sure it holds at least 32 oz of liquid.

if you consume water before you eat, i mean immediately before you eat you will eat less.

But it must be done at every meal, it's the cheapest way to lose weight.

And a perfect way to keep soda drinks at a minimum.




Orange Juice is the best alternative to soda for losing weight because the sugar is natural and your body processes it more efficiently.
Making it accumulate as fast less:

And if you eat fast food for breakfast order orange juice rather than coffee it will dispel the inflammation triggered by the awful food.
The damage to the blood vessels will be less likely to happen.
The protect effects of the ornage juice comes from the amazing amount of flavonoids and the plant pigments which have anti-inflammatory capacities.

Other alternatives to sodas for losing weight are lemonade and grape juice.

because lemonade needs sugar add to taste sweet you will need to make your own.

Preparing lemonade starts with juicing lemons, adding filtered water and using natural non-toxic sweetener like stevia.

Do not use Slenda or Equal etc.

Benefits of lemonade, healthy drink that is, can ward off kidney stones.
If you have already had then cut your chances of recurrence by 90% by adding healthy made lemonade to your dieting program.
Or drink it just to stay healthy, do not use lemonade mixes they don't use real lemons.

You might need to be more cautious drink grape juice because of the natural sugar.

To much juice won't help you lose weight so you must limit yourself to two 10 oz glasses/day.

The great part about drinking grape juice is the source of anthocyanins and antioxidants that enhance brain function and help your memory.

So, sodas and losing weight must be be a healthy choice.

I know of one type of soda that helps your lose weight it's call Zevia, it's made with stevia, give it a try.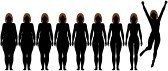 ---
Fast Ways to Lose Weight
Save up to 80% Everyday at Vitacost.com! Click Here!