Ways to Lose Weight  without Sagging Skin

Dieting? Want to quell craving Super FAST, try this...
email me: easyway47@gmail.com

Advertise on Easy Ways to Lose Weight



Give to a FRIEND by share this LIFE enhancing information...



Dieting can be made easy just by following a few simple tricks. Water flushes fat… can't get any easier!

---
3 Ways to Lose Weight
the Healthy Ones
Start at the beginning when dieting and try 3 ways to lose weight with any healthy diet plan.
The medical community pay very little attention to diet, exercise and change in lifestyle when dealing with obesity-relating high cholesterol.

Most cholesterol is not genetic nor is it a life sentence.

You don't need drugs, you need exercise and that lowers cholesterol.

If you are starting a diet or even if you are just concerned about the numbers get your cholesterol check.
When dieting a simple way to take it off is to drop your cholesterol.

Healthy cholesterol should have numbers under 200 mg/dl. JUST by lowering your cholesterol you can lose weight and visa versa.
Lowering your count in the blood stream eliminates fat from your body.
HERE'S THREE WAYS TO LOSE WEIGHT AND LOWER CHOLESTEROL

Reduce saturated fats from your diet to less than 7% of daily calories. Eat less: pork, beef, veal, mutton and chicken. Try lower fat dairy. Stay away from trans fatty foods.
Consume omega-3 super foods daily. Flaxseed oil, cod liver oil and/or fish oil.
Load up on veggies every day and keep fruit handy for snacking. Try low fat, low salt dips with fresh vegetables at every meal.

By cutting out foods with high salt, high sugar, trans fats, high fructose corn syrup, white processed flour and MSG you can lose 30 lbs in less than a year.

You have more the 3 ways to lose weight without doing anything but making simple changes.
Also, think of how healthy your cholesterol count will become after just 10 lbs off.
Think about how well your heart's going to function and how normal your blood pressure gets too.
And the best parts: how much more energy you'll have and how good you'll look in your New Years Eve gown.

Three ways to lose weight:
Lower your cholesterol, start by dropping sodium by 1/2 in your diet.

Don't just think about it do it...veggies at lunch and dinner. Fruits for snacks.
Limit meat to twice weekly, it's not hard I started doing it over 10 years ago.
Did anyone say anything about dieting, this isn't dieting unless you want it to be.
Start right here when dieting, think about what you have just read, stay away from drugs and fad diets.
Begin with the right foods first and you'll have ease at losing weight.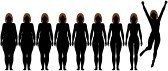 ---
Fast Ways to Lose Weight
Save up to 80% Everyday at Vitacost.com! Click Here!