Drop

10 lbs

by Detoxifying Your Body...



Ways to Lose Weight  without Sagging Skin

Dieting? Want to quell craving Super FAST, try this...
email me: easyway47@gmail.com

Advertise on Easy Ways to Lose Weight



Give to a FRIEND by share this LIFE enhancing information...



Dieting can be made easy just by following a few simple tricks. Water flushes fat… can't get any easier!

---
Ways to Lose Weight

via




Detoxifying

Your Body



Ways to lose weight using simple techniques.
One way to drop pounds is by using detoxifying methods.

One elemental source of excess fat is waste being held in the cells of the body.

If you concentrate on getting the waste out of your body you can be guaranteed to get the weight off.

Detoxifying is one of the easiest ways to lose weight.

Be sensible in what you are eating and keeping your body free from waste can be your ticket to quick weight loss.

Think in terms of cleaning out your cells, because basically that's what detoxification is...

Loss of waste which accumulates as weight every where in your body.

Greens

as a Way to Lose Weight

The cleansing of your body doe not occur unless you consume many many greens/day.

Try: broccoli, romaine lettuce, minxed organic greens, cabbage, collard greens, spinach etc., you get the idea!

When dieting have an abundance of juiced greens in your diet.

In doing so you cut don't on the acid effect in the body.

When I'm dieting here is a recipe for juicing I use not only for losing weight but for cleaning out my body.
4 organic carrots
4 or 5 florets of broccoli: get organic if possible
Handful of Organic Spinach
Handful of Mixed Greens and of course organic
Mix as many raw leafy vegetables as you want as long as they are organic.

You cannot detoxify if you are juicing with veggies that are loaded with herbicides, pesticides, and all kinds of "cides."
Cides are meant for killing...end of story.

---
Add Foods for New

Ways to Lose Weight



Okay here are more organic ways to lose weight.

Carrot soup
Sweet potato soup
Grain sprout breads
Brown rice (organic)
White potato soup

Brussell sprouts soup

When dieting you'll want to add these foods as well:

RAW almonds and walnuts
Raisins and apples (organic)
Banana & almond butter shake
Avocados (organic)
Dates (mix with nuts)
Dried pears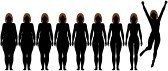 ---
Fast Ways to Lose Weight
Save up to 80% Everyday at Vitacost.com! Click Here!
You can give back by sharing this page now