Ways to Lose Weight  without Sagging Skin

Dieting? Want to quell craving Super FAST, try this...
email me: easyway47@gmail.com

Advertise on Easy Ways to Lose Weight



Give to a FRIEND by share this LIFE enhancing information...



Dieting can be made easy just by following a few simple tricks. Water flushes fat… can't get any easier!

---
Healthy Ways to Lose Weight
It is easy to find healthy ways to lose weight if you are one of those rare people who's losing weight because you want to stay in health.
To many of you are dropping pounds just so you can try to look like a ten foot high model.
Not going to happen folks!!
What will happen though is vitamin and mineral deficiency, heart dysfunction, liver and kidney problems, hair loss, skin rashes, need I go on?
---
Take these:

Vitamin C
Vitamin E
Folate
Multi-vitamin/minerals


Vitamins and Minerals help with Weight Loss




Vitamin and mineral supplementation alone won't guarantee you a quick way to lose weight.

However, as I have said in other posts: if your body is getting what she or he needs you have lessened cravings by 85% or more.

---
Other Healthy Ways to Lose Weight-Fiber


Instead of consuming only around 12 grams of fiber/day do what Mary Eades MD recommends, a member of the staff of researchers at Arkansas Center for Health and Weight Control in Little Rock.

Her advice is to up your intake 4 fold by consuming 50 grams a day.

You can lose 10 to 15 lbs in a very short time.

Because the more fiber in your body the faster your digestion and the faster all waste is eliminated, taking with it excess fat.

Some high fiber foods: All types of beans, barley, dried pears, blackberries, chick-peas and corn bran.
All high in fiber and all delicious!
And any time you eat a high fiber diet it becomes an easy way to lose weight.
You can't fail because generally fiber rich foods are low in fat, low in sugar and low in salt all the things that impede weight loss.
As I have mentioned before legumes and bean are a natural and inexpensive diuretic.
So, why would you not incorporate healthy ways to lose weight via great foods?

---
Fat for Weight Loss, HUH can't be?




Yes, it's true monounsaturated fats ward off diabetes and when dieting assist in losing weight.

The two foods containing monounsaturates are olive oil and canola oil.

If you are truly serious about losing weight and keeping it off for good.

Start right now by emptying your refrig' and cupboards of corn oils, vegetable oils, peanut oils, soybean oils, sunflower oils and safflower oils.
Monounsaturated fats in olive and canola oils improve glucose control in those who are diabetics.
Research at the University of Texas Southwestern Medical Center in Dallas found that a diet with 45% of the calories coming from fat (25% of it monounsaturated fats) produced lower blood levels of artery clogging triglycerides.
Monounsaturates proved to be one of many healthy ways to lose weight than a regular low calorie carbohydrate diet.
Back to Top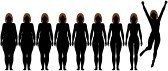 ---
Fast Ways to Lose Weight
Save up to 80% Everyday at Vitacost.com! Click Here!